Ep4: Craft Cocktails and Recipe Building with Redwood Hill
Cocktail hour is back, apparently! So pour yourself your favorite libation and enjoy a specially curated "session" with Material Feels.
Redwood Hill has been mixing drinks in the Bay Area for over a decade. She is currently an instructor for the Restaurant Opportunity Center, a non-profit in Oakland, CA that provides free professional development to folks in the restaurant industry. In this episode we explore the art of recipe-building, the dynamics of serving and the complex history of liquor in all its myriad forms.
Our interview resulted in such lush, intricate material– a conversation about craft cocktails evolved to cover identity politics, colonization, inclusion and exclusion in the service industry, the role of memory in expanding one's tasting palette.
Identity Politics
In this episode we chat about what it means to fall into an ambiguous category when it comes to gender and race. How this shows up for Redwood as a queer, black bartender with a fluid gender identity.
I encourage listeners who are not often "one ofs" (or, the only ____ in the room) to spend some time learning about how identities and categorizations negatively impact people. It's tricky with audio, because I'm just this voice in your head. And I don't know you or your life story, you don't know mine. But I hope my listeners with various degrees of privilege perk up and get curious about how structures marginalize specific identities for profit and gain. For those of us with privilege (writing/saying this as your white host with class privilege), it's essential we use any power we have to support folks who are marginalized for collective liberation. <3
The Restaurant Opportunities Center
The Restaurant Opportunities Center, or ROC, is a nonprofit organization fighting to improve wages and working conditions for restaurant workers throughout the United States. ROC provides free job training and professional development for restaurant workers; the local Bay Area chapter is located in the Restore Oakland building in Fruitvale. Redwood is a bartending instructor there and throughout shelter-in-place has been creating and facilitating content for online learning.
As businesses begin to reopen, ROC plans to open a restaurant called COLORS, which will offer hands-on job training and access to livable wage jobs in the restaurant industry for communities of color. 
During our interview, Redwood also spoke about Jessica Moncada, one of the women in the cohort of women of color infiltrating the craft cocktail industry back in the day and currently.
"Jessica was definitely my personal invitation to the craft aspect of bartending. She & I worked together on unconventional bar pop ups. Her and her business partner Kori Chen are finally opening Alkali Rye, a bottle/tea shop in the old Alchemy shop after years of trying! They're a go-to as an essential business in the spirits market. A largely POC & WOC portfolio with an intention about which spirits are stocked and the ethical practices of those brands."
Follow Redwood on Instagram, check out the Restaurant Opportunities Center's website and keep your eye on Alkali Rye!
Adventure Time
Each episode I like to go on an "adventure." So far these adventures have included a Saturday class at Kids N' Clay in Berkeley, where we smashed a pot of mine I always hated, an excursion to a wool mill out in Woodland and a walk in the woods along my favorite trail in Oakland.
But this episode's adventure was not a field trip — instead, we visited the shores of Martinique in our minds, listening to the lapping waves of the ocean, salt and mineral in the air, the breeze blowing through tall sugarcane stalks. Oh, and we had Old Fashioneds on Redwood's roof with my housemate and her partner! That was nice, too.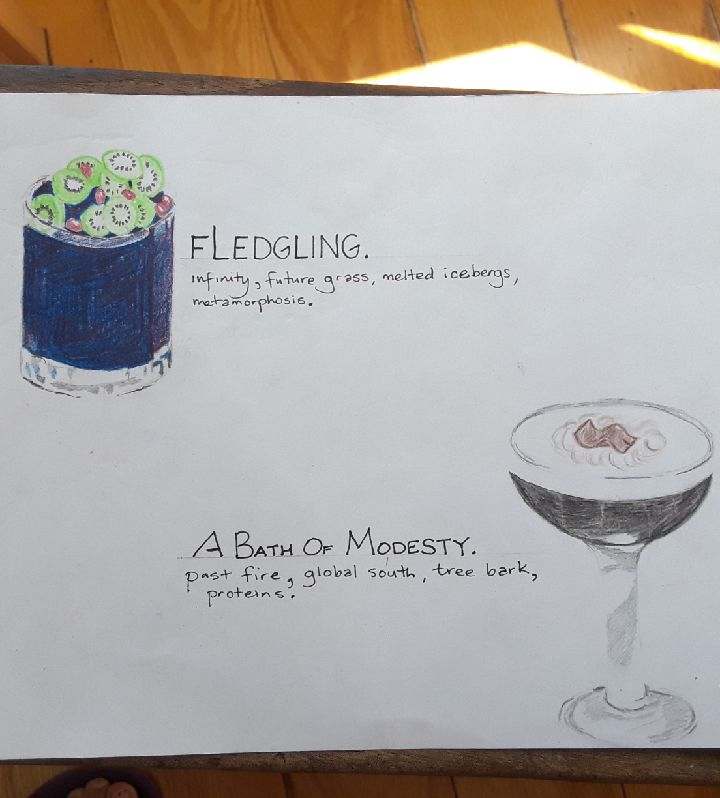 The Material
Studying the material meant learning about the history of craft cocktails (of course I was intrigued by the history of my personal favorite, the Old Fashioned!). Tapping into the history of liquor, from fermentation to distillation. Re-educating myself around what exactly alcohol does to the brain. Learning more about the performative aspect of bartending and hospitality. It also meant making a drink or two while I made the episode!
Fun Fact: During the interview, I also ask the guest what music they are listening to right now. This helps me get inspired while I write the script and arrange the story — and it's also a great way to learn about new music! Redwood is currently listening to Horace Silver, Alice Coltrane, the Fiona Apple album, JLA Electronica and Doja Cat.
An Old Fashioned For Grandpa Derr
This episode focuses in on the Old Fashioned, which happens to be my "drink" and the drink my family toasts to honor my grandfather. Completely by coincidentally, it is also the drink Redwood made for us after our interview in early May!
As we learned from Episode 4, recipe-building can involve research, poetry, drawing, tasting and refining. My recipe for the Old Fashioned I make in honor of Grandpa Derr is one shaped by many years of making, and I thought it would be fun to include it:
Muddle the following:

2 shots of bourbon
3 dashes of Angostura Bitters
A touch of maple syrup
A slice of citrus (orange is preferred)
2 cherries and a dash of the juice

Add:

5 whiskey stones from the freezer, or ONE giant ice cube

Put on a favorite record or playlist, lift your glass and cheers, "To our beautiful family!" :)
Original Music by Lizdelise
As always, we close out each episode with a song created by my collaborator Liz de Lise. Liz takes inspiration from the material, the feels, or both. Listen to the song on its own here and check out the lyrics below.
This episode I also used underscores by Liz as well as MSFX, Pax1 and Yellow Tree; I source my loops and many characteristic sounds from www.FreeSound.org, a great resource for producing audio!
 Wouldn't it be nice if I could
 Pour myself inside your head
 Fill you up with all the sweet things
 That I always wish I'd said
 
 I can't erase the place from the taste
 a shadow cast
 a white hot light
 I won't replace the place from the taste
 assemblage built
 in the misty night
 
 often when I smell your perfume
 I recall things that haven't happened yet
 somewhere in the heart of spring's bloom
 we got so full, we had to forget
 
 I can't erase the place from the taste
 a shadow cast
 a white hot light
 I won't replace the place from the taste
 assemblage built
 in the misty night
 
 there's a party or a fight outside
 everybody's trying to get close
 there's a party or a fight outside
 everybody's trying to get close
 everybody's trying to get close

---