Ep6: Season 1 Wrap Up – Sound with Musician, Composer & Assistant Producer Elizabeth de Lise
First off: there is so much to learn about the world of sound! I could have prepared for this show for months and enjoyed every minute of it. My favorite way to dive into materials? Documentaries and videos.
Here are some great resources that explore sound, from the basics of defining sound (sounds waves, frequencies) to sound within a cultural context.
This handy video by Adam McGrath on YouTube served as my intro to the physics of sound waves:
I discovered a rich language of sound to accompany the way I hear and feel sound, as well as the way I edit sound visually for the podcast! Some fun sound facts:
Sounds below 20HZ are more of a feeling than a hearing phenomenon
The envelope is essentially the story of the sound: every sound has a beginning, middle and an end. There is the Attack (beginning of sound) Decay, (beginning to middle), Sustain (middle) and Release (end).
Harmonic Content is how a note on the piano sounds different than the same note on a guitar (because of the "the space in the package" — the instrument!)
Overtones "sculpt" the quality of the sound.
Then I went down a wonderful rabbit hole exploring the relationship between gesture and sound:
What Conductors Are Really Doing | WIRED: "Conductor and organist Kent Tritle explains all that goes into being a professional conductor. From the concepts of legato, marcato, fortissimo, and more, Kent breaks down what exactly his hand movements mean when leading a group of musicians. "
Then, I was looking for a Black conductor to learn from, as the field of conducting has been historically dominated by white, male perspectives. Kalena Bovell is lauded as the "first Black hispanic female conductor" and she's the music director at The Loomis Chaffee my high school in Windsor, CT!
"Music has the power to change lives, and it's transformative. And if I can bring that to someone else, my life will be worth it." A quote from Marin Alsop, the first woman conductor of a major American Orchestra:

I ran into several resources that reminded me of a book I read when I was a teenager that informed my understanding of materials, mediums, creative practices and the blurred space of interdisciplinary truths: Proust was a Neuroscientist by Jonah Lehrer. Here is an excerpt from an article Lehrer wrote for WIRED a few years ago:
"When listening to our favorite songs, our body betrays all the symptoms of emotional arousal. The pupils in our eyes dilate, our pulse and blood pressure rise, the electrical conductance of our skin is lowered, and the cerebellum, a brain region associated with bodily movement, becomes strangely active. Blood is even re-directed to the muscles in our legs. (Some speculate that this is why we begin tapping our feet.) In other words, sound stirs us at our biological roots."
Then there is The Sound Is The Scenery documentary:
"You may think we listen using our ears, but it involves the body as a whole. Tune yourself to what you hear: bodies and the space around us function as a single organism."
Another big influence on my understanding of sound: deaf folks sharing what it is like to listen to music. From Sensations of Sound: On Deafness and Music By Rachel Kolb:
"Can you hear the music?" Even though I now can, I think this question misses the point. Music is also wonderfully and inescapably visual, physical, tactile — and, in these ways, it weaves its rhythms through our lives. I now think a far richer question might be: "What does music feel like to you?"
And people experiencing hearing loss due to illness or disability. Have a listen to Hearing Me, a BBC Documentary. "What does life sound like for someone whose hearing has suddenly changed? Carly Sygrove is a British teacher living in Madrid. She was sitting in her school's auditorium when suddenly her head was filled with a loud screeching sound."
Which led me to the choreography and story of Shaheem Sanchez, a deaf dancer: How Do Deaf People Experience Music?
The Responsibility of Production: Accessibility
I kicked off this episode by listening to What Do You Stand For, by HowSound (one of my favorite podcasts about podcasting!) while driving down I-5 to meet up with my sister in Southern California. Here's the episode description:
"Why do you report a story or produce a podcast and send it out into the world? What gives you purpose? What do you stand for? Rob finds meaning from the original NPR mission statement. He talks to Bill Siemering about writing the statement in 1970, the first broadcast of All Things Considered, and what inspires Bill to work in radio for several decades — the power of the human voice."
Delving into the "why" behind Material Feels: my goal is not only to honor the material world, explore our relationship with it and center the creative impulses we all have. The point is also to center the voices of people who are not typically in the mainstream spotlight. Small business owners. Queer folk. Non-binary folks. BIPOC makers. QTPOC makers. Womxn makers.
Then there is another crucial intersection: the accessibility of materials (who is known for using them and why? Am I interviewing and centering experiences of people living with illness and disability?), when it comes to the guests on the show, the materials we focus on and the podcast collateral itself. Are my photos captioned? Can people access a script?
Here are some ways I will be further aligning with these values in Season 2:
I will center artists who are BIPOC and/or QTPOC makers, artists living with illness and/or disability, small business owners and/or working class makers, rural makers, womxn, etc.
I will make the podcast as accessible as possible, publishing captions & full scripts, employing accessible design principles with visual content.
I will create radio through the lens of racial and disability justice.
I will pass the mic, using my power and privilege as a white, able-bodied host to equitably represent stories in the context of art materials.
The Visual Process of Editing Sound
It's actually a highly visual process to edit sound…for instance, with the podcast, I typically take out people's "ums" – and when someone does it a lot, I begin to recognize the specific shape, the pattern of their "ums." Matthew's ums were soft and low, more like a rustle of the throat. Danielle's ums were more musical, low and long. Dominique said "and" as a longer filler between thoughts; Redwood's were more like breaths, Gracia's were short and medium pitch, always the same length.
Then there is the layering: when you edit a piece for audio, there is music in one track or layer of the piece, narration in another, what we call "characteristic" sounds in yet another. Then to take it a step further, and discuss music, musicians who work with sound software may have different effects and instruments separated out even more. You cut, rearrange, layer, replay, close your eyes and paint a picture with sound between the speakers.
Layering sounds changes or sculpts the frequencies into a new sound. It's like design, or painting, or sculpting patterns for your ears, body and emotions.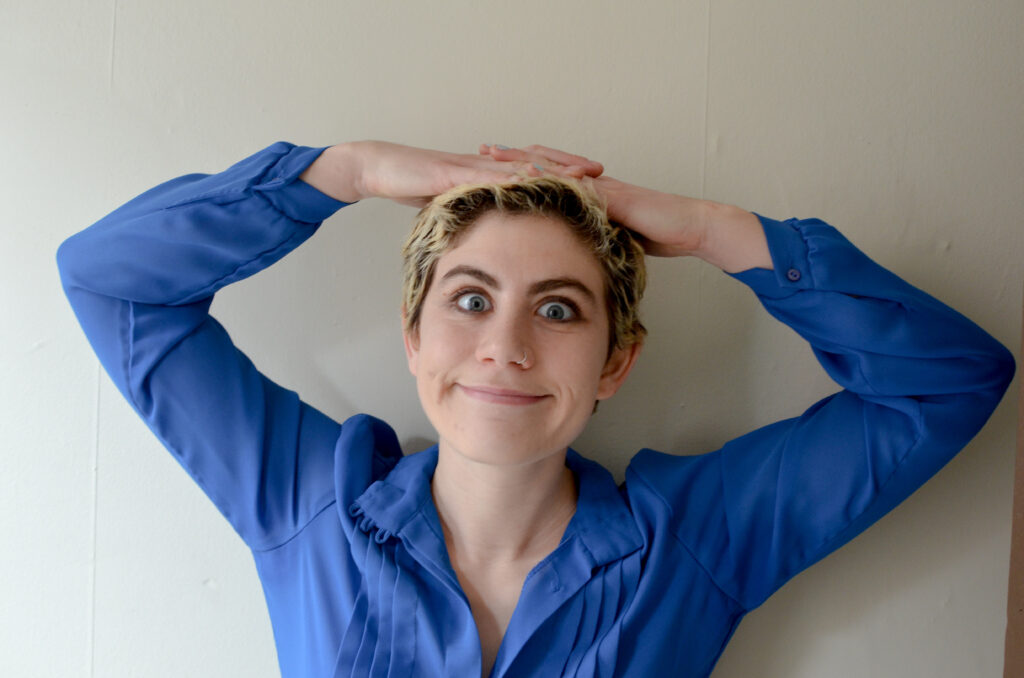 Working with Elizabeth
Elizabeth de Lise (she/they) is an artist based in Philadelphia. de Lise's work has been described as bridging the gap between "experimental and widely accessible" (John Vettese for NPR), and "playful, ambitious…undeniably luscious" (Lizzie Quinlan for Earhart). They front the band Lizdelise, a dreamy pop rock band from Philadelphia. Angular guitar lines meet looper and drum samples to create pulsing, intricate soundscapes and melodies–equal parts distortion and intimacy. (For fans of St. Vincent, Wye Oak, Dirty Projectors)
Elizabeth and I have known one another for about a decade now. We met in college where we both worked at the student-run coffee shop on campus. They played in various bands on campus, she did shows at the coffeeshop and at our dorm, Earth House, where we eventually lived together. We traveled across the country one summer with our friend Eliza and lived in Portland and Elizabeth busked (played guitar on the sidewalk) for summer funds and got to know the unhoused community there. 
Over the years we've kept in touch and we talk nearly every day. I am so lucky to work closely with such a trusted friend (and brilliant creative mind) on a project that is so near and dear to my heart.
On Misophonia
In this episode I share a bit about my personal experience of sound. I live with a sound sensitivity and neurological condition known as Misophonia. This video on Treating Misphonia was particularly helpful to me (I won't be sharing the other videos that include all the trigger sounds, I'll let you find that on your own!).
Precious Sounds & The Point of Appreciating
There is a sound collage in this episode inspired by responses to the question: What sounds are precious to you? Responses included…
my huskies little howls to greet me
summer cicadas
pouring rain
a crackling fire
my miniature schnauzers snores
my kids laughter
crunching winter steps in the snow
a mourning dove's song
ocean waves
a cat purring
The wind passing through trees
my nephew telling me he loves me
guitar strumming
Appreciating the physical world (materials) and honoring our creative relationship to them means nurturing a deep appreciation for our own sensitivities. This means being present and grateful and… once we reflect deeply on what we are grateful for, sharing that out.
And if you are a Material Feels listener, you are already intimately acquainted with the sounds I love. That's the beauty of producing your own audio project… you select the voices, the sounds, the scoring… it is just *chef's kiss* amazing!
Hiatus: See You Soon For Season 2
Material Feels will take a brief break to get Season 1 out into the world more, publish scripts, work on our website and prepare for a lush Season 2! We'll also be using this time to look for a home. Do you know people in radio? Are you a network looking to pick up a new pod? Let's talk.
Please keep following us on social media (Instagram, Twitter, YouTube, Facebook) where we will be post show extras and continue to share stories celebrating artists and their materials.
---